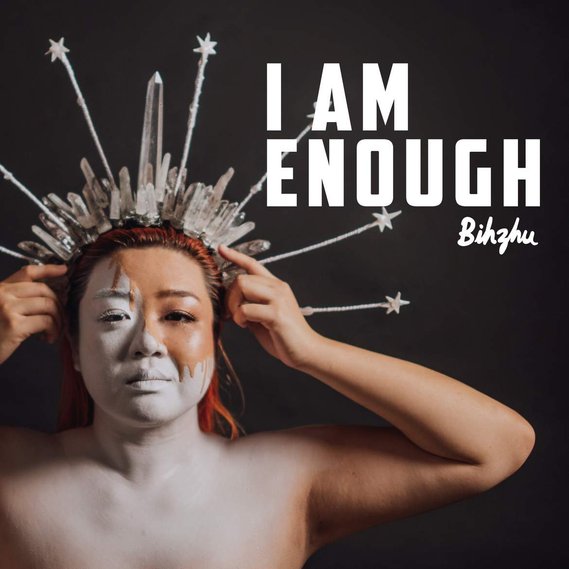 Spotify | Bandcamp | Apple Music | KKBOX | Deezer
"I am soul
I am beautiful
I am loved
I am enough."

"I Am Enough" is more than a song, it is a declaration of freedom, of acceptance, and of self-love.

Inspired by the real-life experiences of singer-songwriter Bihzhu, who repeated these affirmations on her journey of spiritual growth and reflection - the inclusion of these powerful phrases in the lyrics of this uplifting anthem will hopefully help others light up their own flames of empowerment.
Image Credits
Photographer CATHERHEA
Make up AZHAR ZAINAL/ MAC COSMETICS MALAYSIA
Hair KAY TUAN/ CENTRO HAIR SALON
Headpiece BREMEN WONG
Studio ALL IS AMAZING
BTS Stills CHRIS LIM
BTS Video RAVIN PUSPALINGAM
Image edits by ONG YI LYN
Lyrics
[Verse 1]
I am the Master of my life
Watch my majesty arise
Sticks and stones and words, who said they don't hurt?
Wounds and tears and blood, all the scars that I love

[Verse 2]
I know that it all begins with me
I've got wisdom and I'm free
Every choice I make, is a gift of enlightenment
Is your heart awake? All this light I embrace

[Chorus]
I am soul
I am beautiful
I am loved
I am enough

[Verse 3]
Don't get a box and label me
I'm more than my sexuality
My abilities aren't just what you see
My true identity goes beyond skin deep

[Chorus]
I am soul
I am beautiful
I am loved
I am enough
(repeat)
Song Credits
Composed by BIHZHU
Lyrics by BIHZHU

Arranged by MELINA WILLIAM
Produced by MELINA WILLIAM
Music by MELINA WILLIAM

Recorded by ROZHAN RAZMAN
Mixed by ROZHAN RAZMAN
Recorded at RIROMUZIK x PLAYSPACE
Mastered by JOSH KESSLER/ KESSLER MASTERING

Background vocals by
ALVIN CHAN
FARAH MARISSA AINUDDIN
GOH YEN PENG
KUEE SUSAN
LAI SUK YIN
LIM POH LIN
MAK CHI HOE
RACHEL LIU
SERENE CHNG
TRISTAN GOMEZ