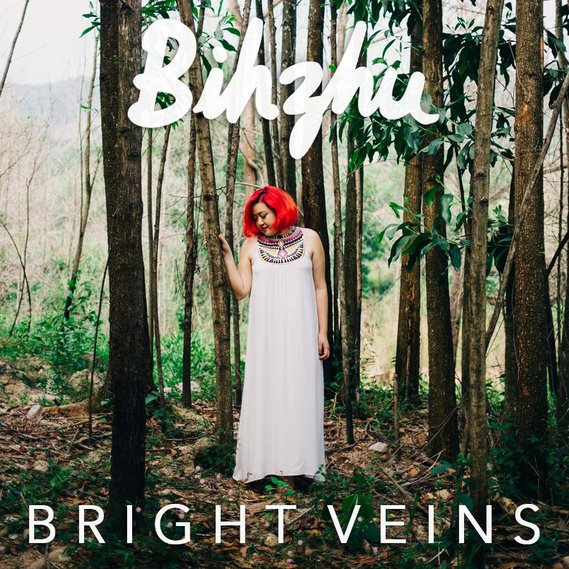 Listen to Bright Veins on
Written at a spiritual retreat in Australia, the song bubbles with positivity. It urges the listener towards joy and self-belief, guided by Bihzhu's jazz-pop inflections, glorious harmonies, and a mélange of homely instruments – tabla, gamelan, kompang, dholakh – towards an inevitable crescendo that assures us that whatever life has in store, "everything will be ok".

Clocking in at just over three minutes, 'Bright Veins' achieves the near impossible task of an epic performance within that tight span of time, in which the song, honey-wrapped in melodious refrains, builds from quiet introduction to rousing conclusion. And while Bihzhu's message of self-worth is weighted by an air of authority, she also expresses childlike wonder and praise at how this can be achieved.
Lyrics
I've got Light, running through my veins
I've got Love, written in my name
And I know, everything will be OK
And I know, everything will be OK

I am not afraid
To claim my heritage
My destiny is to be great
I am gonna forge ahead

I've got Light, running through my veins
I've got Love, written in my name
And I know, everything will be OK
And I know, everything will be OK

I know not what lies ahead
Only that I'll learn my way
I listen to the voice it says
Life's the greatest game you played

I've got Light, running through my veins
I've got Love, written in my name
And I know, everything will be OK
And I know, everything will be OK

Everything will be OK (repeat)
Credits
Released March 25, 2015
Lyrics BIHZHU

Music BIHZHU

Vocals BIHZHU

Body Percussion ZALILA LEE

Percussion + SANTOSH LOGANDRAN
Body Percussion

Gamelan TEUKU UMAR ILANY

Guitar SAVY HO YIE YIN

Bass FLY HALIZOR

Back Up Vocals
BENJAMIN LIN
BRIAN CHEONG
CHANG FANG CHYI
DOMINIC LUCIEN LUK
GABRIEL NOEL POUNTNEY
HERMAN RAMANADO
JOEL WONG
JOSHUA GUI
MICHELLE HS TAN
NELL NG
NISH THAM
RYAN GOMES

Arranged by SAVY HO YIE YIN

Mixed by ALEX LS TAN/ STARMOUNT STUDIO

Mastered by WOODY PORNPITAKSUK/ WESTSIDE MASTERING